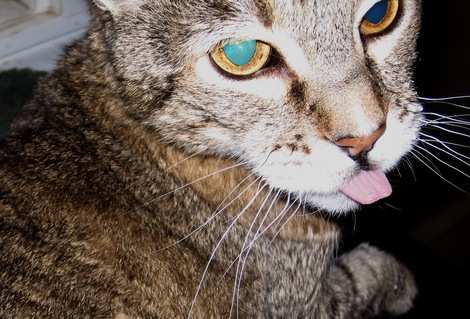 Jed, aka "JedJedJed", "Jedders", "Jedbutt", "Little Wacko" died today after living approximately 15 years. He died quietly in his home with me at his side.

He had lymphoma that ate up his back leg joint and alimentary canal. It was so frustrating, for both me and him, to see his body failing when his mind was still so alert and active. Why don't we have mind uploads yet? Why no restore from backup? The world of atoms sucks sometimes.
I got Jed from the Pasadena Human Society sometime in 1994 (or maybe '93). He was ~2 years old then. I was there somewhat on a lark. There was a big ginger colored cat I fancied, but while idly looking through the other cages, this skinny, kinda scroungy-looking mutt cat, stuck his arms through his cage to pat at my face, purring so loud I was surprised he wasn't deaf. No ginger cat for me. Instead, Jed.
When I first brought him home he loved to jump up on me, wanting to be high up and look around. One house I lived in, the 2nd floor bathroom window opened onto a small gable. He loved to sit out there on the gable's tip, like some fuzzy gargoyle, getting tormented by the birds sitting mere feet away in the tree. He was so curious, and always playful. Even in his declining years we'd chase each other around the house: first my turn, then his. And while I'm not sure if he enjoyed it, he certainly tolerated me pushing him around on a skateboard.
He yearned to go outside, but would never venture farther than the backyard. If I ever couldn't find him, all I'd have to do is call his name and he'd come running. So I'd leave the back door open when I was home for him to come and go as he pleased. Inside he was a good clock, tracking the sun's position with quarter hour accuracy to ensure he got his solar cells maximally charged. As the sun left, he could be found on his cat tree that abutted a window, lazily watching the world go by.
I'll miss his PermaPurr, so loud it was sometimes hard to think if he was nearby. I'll miss how he'd meet me at the door when I'd come home. If he was lounging and I said his name once, he'd meow and wag his tail in response. Pinging my own kitty sonar. But if I called "jed-jed-jed", he'd get up and come over to me, purring like a buzzsaw. He loved to talk, but only if others were talking in the same room. When it was just me working on my computer, he'd quietly come lay next to me.
He loved to play in water, trying to get into the shower with me or stick his head and paws under running taps. Or try to steal sips of my water glass. He really liked spicy food and would wait patiently for me to put my plate on the floor so he could finish off the really spicy marinara I make or the occasional Rick's burrito.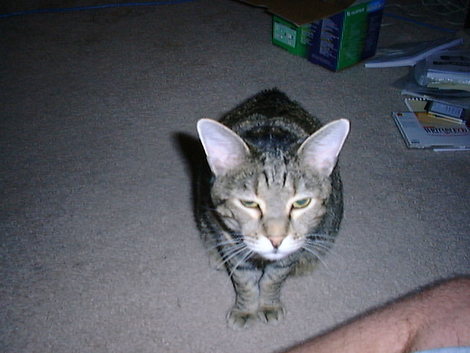 He loved to be picked up (getting high again) and would ride on my shoulder as long as I could take his nails poking me. Once he found where my studio/lab was, he'd sneakily come visit me, scaring me half to death when I lean back and stick my feet into an unexpected furry purry bag. If you stood by his food bowl, he was obliged to start eating immediately, even if he wasn't hungry. He was a little odd. His seemingly overlarge ears and eyes made him look like a little alien. His fur consisted of a downy undercoat and coarse outer coat, making him appear disheveled, like he just woke up. He had a skinny tail that seemed out of proportion with his body. A strange looking cat.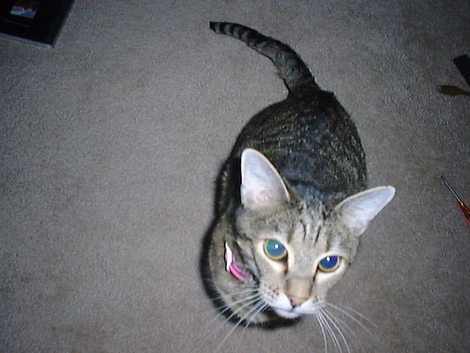 Jed was a real dot-com kitty. He arrived right as I started working on the web and left not long after I left it. Perhaps appropriately, he used the first several issues of Wired magazine as a scratching post.
Jed was such a good cat, a constant and friendly companion for over 13 years. Always a source of entertainment and a good sport for all the teasing I gave him.
I'll miss him. Goodbye Jed.