The Parallax RFID reader is a pretty cool bit of tech. For $40 you get a reader with integrated antenna that outputs ASCII at 2400bps. Unfortunately, the integrated antenna means you can't place RFID tag sensing in tight spaces. You can however circumvent the built-in antenna and add your own. With a remote antenna of your own creation, you can customize its size and shape to fit your application.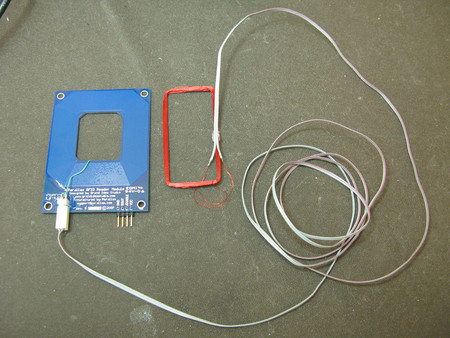 First, locate the two places where the circuitry connects to the
antenna. (click the images for larger versions with notes)

Then using an Exacto knife or similar device, scrape away the traces leading to the antenna. This disconnects the built-in antenna. Then scrape away some of the solder mask on each of the traces leading to the circuit and solder down some fine wire. I use wire-wrap wire.

The two wires soldered can then be led to a jack of some sort. I used a 2-pin Molex header I had laying around. Now you can fashion a remote antenna.
To fashion an antenna, you need to create a >1/2″ diameter loop of about 100 turns of 30-gauge enameled solid-core wire (aka "magnet wire"). Radio Shack sells a pack of magnet wire that fits the bill just fine. Wind the wire around something handy, then keep it together with clear fingernail polish. Use a lighter to remove the enamel and solder wires to it.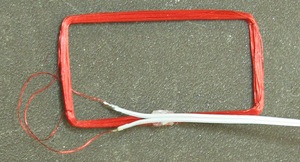 If you have an inductance meter, use it to make sure the inductance is between 500-1000 uH.
If the inductance isn't high enough (i.e. not enough turns) the RFID reader just won't work and you may even damage it. But then, if you're taking an Exacto to your reader, you're probably not so concerned about that.