I like the stock iPhone headset. They sound okay as headphones, their mic is pretty good, and setup is much easier than with a Bluetooth headset. Plus they're pretty cheap at $29. I also liked the stock iPod headphones, for similar reasons. I'm clumsy with headphones and tend to break or lose them. But these stock headsets stand out. The white headphone cables has become part of the Apple marketing message that I'd rather not take part of. So all I want is a black version of the Apple headsets. Since no one sells that, guess I'll have to make my own. After trying many different substances (PlastiDip, black shoe polish, vinyl dye, & regular MarksALot), the best solution appears to be Sharpie Magnums.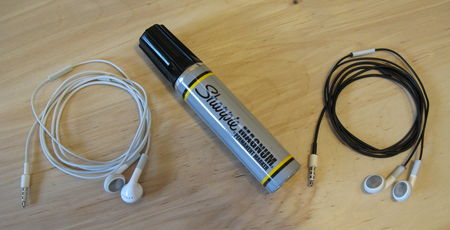 To make your own, just put painters' tape over the delicate parts of the headphones, and then start painting the cable with the Sharpie Magnum.
Be sure to do it over a piece of scratch paper or other surface you don't care about. Don't try to do it all in one go: do a bit, let it dry, continue. Once you're done, let it dry for a day or so. Then peel off the painters' tape and enjoy.