A single BlinkM MaxM can easily drive a 5 meter (16 ft) roll of the flexible RGB SMD LED tape that's used for architectural lighting. Each roll contains 150 RGB LEDs.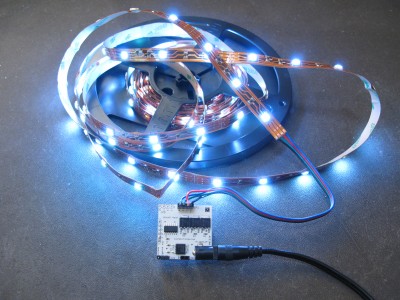 Each LED in the tape is a SMD RGB "5050" LED, capable of putting out about 6000mcd. The spacing between LEDs is 3.3cm (~1.25").
Every 3 LEDs is a cut mark with solder tabs so you can cut or join pieces of tape.
Max current for a 5m roll is about 1.9 Amps. I did a quick test of MaxM driving three rolls at about 6A and it seemed fine.
This stuff is really cool. I've been buying it from this really great seller on ebay named "sunnytech".
Here's what you can do with it. Each of the 15 sections contains between 1 and 3 rolls of the tape.