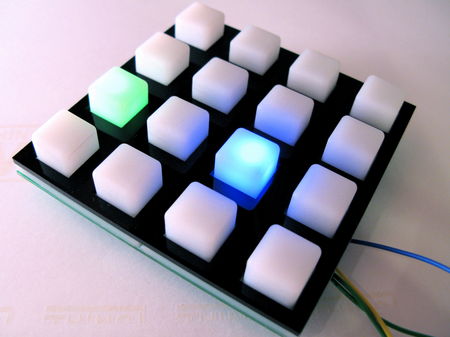 This is a laser-cut acrylic bezel for Sparkfun's Monome-like Button Pad PCB and Button Pad. These 4×4 Button Pads are great: big chunky buttons with a PCB that can take an RGB LED. JMG is making a "monomuino", a Monome work-alike using this pad and an Arduino. And he's extending the Monome functionality since his indicator lights can display 3 dimensions of data instead of the normal 1 of Monome.

I've had one of these button pads for a long time but was stymied from using it for a variety of reasons, partly due to not having a bezel to stabilize the buttons from canting to one side when pushed. Sparkfun always seemed to not have their bezel in stock. So I decided to try to laser-cut a piece of scrap black 1/8″ acrylic into a nice bezel.
Here's the vector file if you want to try this yourself. It's a very simple set of cuts.
– sparkfun_buttonpad_bezel1.cdr — Corel Draw format
– sparkfun_buttonpad_bezel1.eps — EPS file
You can use a company like Ponoko or Pololu to do the cutting for you.
Here's what the bezel looks like taken off the button pad: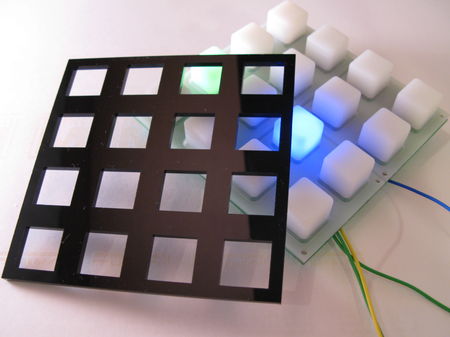 I experimented in getting the right size of the bezel's holes (not too tight or buttons can't push down; not too loose or bezel offers no suport) by making "paper prototypes" of the bezel: cutting out bezel shapes in paper and fitting them over the button pad for test fits: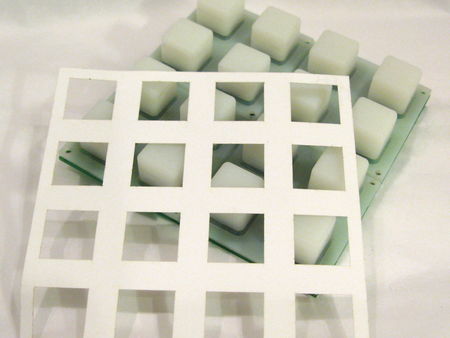 The next version should use a thicker sheet of acrylic (1/4″ maybe instead of 1/8″), add maybe add screwholes.