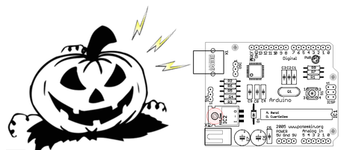 Yesterday was the first of the four classes that comprise the Spooky Projects – Introduction to Microcontrollers with Arduino. Click that link to read the class notes and see some of the links mentioned.
The class seemed to go okay. We finished a little early. I had packed the first class a bit light fearing we'd be fighting USB serial driver issues, but the students in this class are all smart cookies and solved any issues they had themselves.
Logistically, the class was sponsored and held at Machine Project. They have a new large open area downstairs that is perfect for meetings or classes of around 15 people. It's a great space and separated from the main gallery space meaning that classes and gallery showings don't collide.