Currently I'm the main maintainer of node-hid, the Node.js package that lets you talk to USB HID devices like blink(1).  I recently cribbed automated build config from node-serialport so now node-hid is automatically built for Mac, Linux, & Windows and Node 4.x,6.x,7.x.   It's pretty cool to have these robots doing my bidding.  But did you know you can do automated builds of Arduino sketches too?  I didn't until last night and it's AMAZING.
For instance, that CrashSpace BigButton Arduino sketch I mentioned previously, is now getting automatically recompiled for the Wemos D1 mini ESP8266 board every time I check in. See?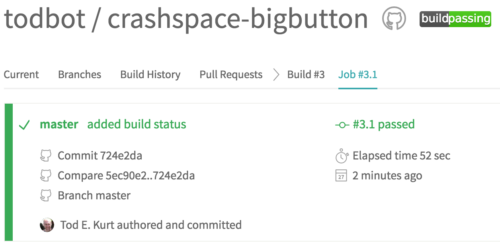 How is this magic done?