I recently obtained a ReadyNAS NV
by Infrant, on the recommendation of my friend Ben Franco, who's done much research on large disk arrays. The ReadyNAS pretty much rules. I think my long-standing storage woes may finally be over.

It's a dedicated Network Attached Storage (NAS) box that does RAID-0, RAID-1, RAID-5, or a proprietary combo of the three called "X-RAID". X-RAID allows you to start with one disk, move to two, then three, then four, all without rebuilding the RAID or changing RAID levels.
It has a really nice web-based GUI. You would hardly know that deep-down it's a Linux box running on a custom ASIC CPU containing a SPARC core and 4-channel SATA controller.
When a drive dies, if the temperature gets too high, or various other alert conditions, the web interface updates in real time and it will send you email.
I bought it with one 400GB drive. This gave me 400GB of unprotected storage (JBOD, with only one disk). I then added a 2nd 400GB disk, while it was turned on, and it immediately started building a RAID-1 system, giving me 400GB of protected storage. Below you can the status and log pages for when I had just added the 2nd disk.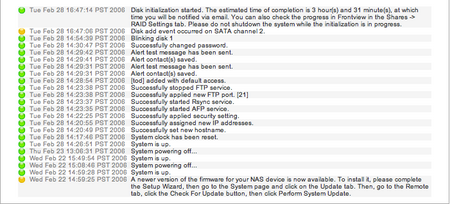 At the bottom of the web UI, it has this little tiny dashboard showing the most important aspects of the device. Of course, all the icons are hot and if you mouse over them they give more detailed text descriptions and if you click on them you're taken to the relevant status pages.

The box does SMB (aka CIFS, Windows file protocol), AFP (Apple File Protocol, the default protocol used when you connect to servers on Mac OS X, aka netatalk I think), NFS, HTTP, FTP, and rsync.
Of course, Mac OS X can do all of those protocols, but I've been using AFP to start since unlike SMB, it deals with character sets better, unlike NFS it deals with connect/re-connect more gracefully, and unlike HTTP/FTP/rsync, it gives me a disk I can mount.